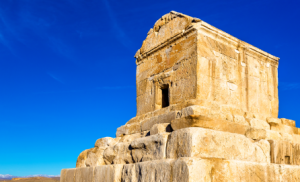 The Prophecy of Cyrus
Imagine taking a trip to Philadelphia, Pennsylvania, and visiting the State House where the Constitutional Convention took place in 1787. During the tour, your guide points to a document dating back to just this side of the convention—about the year 1820. The piece of parchment tells of a man named George W. Bush from Austin, Texas, who would be President of the United States within the next 200 years. But how could someone know that a man named George W. Bush would be born in the United States? And how could someone know more than a century before Mr. Bush was born that he would be President of the United States? Furthermore, how could someone in 1820 know that a man from Texas (named George W. Bush) would be President of the United States when Texas wasn't even part of the Union yet? Such a prophecy truly would be amazing, yet obviously no such prediction was ever made. In fact, despite all of the publicity that "psychic hotlines" receive, only God can foretell the future.
One of the reasons we can know the Bible is from God is that it contains hundreds of prophecies about individuals, lands, and nations similar to the example above. One such prophecy was about a man named Cyrus and two nations: Babylon and the Medo-Persian Empire. Isaiah vividly described how God would destroy the powerful kingdom of Babylon, "the glory of kingdoms" (13:19). Writing as if it had already occurred (commonly known as the "prophetic perfect," frequently employed in the Old Testament to stress the absolute certainty of fulfillment, i.e. Isaiah 53), Isaiah declared Babylon would fall (21:9). He then prophesied that Babylon would fall to the Medes and Persians (Isa.13; 21:1-10). Later, he proclaimed that the "golden city" (Babylon) would be conquered by a man named Cyrus (44:28; 45:1-7). This is a remarkable prophecy, especially since Cyrus was not born until almost 150 years after Isaiah penned these words.
Not only did Isaiah predict that Cyrus would overthrow Babylon, but he also wrote that Cyrus, serving as Jehovah's "anointed" and "shepherd," would release the Jews from captivity and assist them in their return to Jerusalem for the purpose of rebuilding the temple. All of this was written almost 200 years before Cyrus conquered Babylon (539 B.C.). Amazing!
In case you are wondering about the factuality of this story, secular history verifies that all of these events came true. There really was a man named Cyrus who ruled the Medo-Persian Empire. He did conquer Babylon. And just as Isaiah prophesied, he assisted the Jews in their return to Jerusalem and in the rebuilding of the temple.
Truly, "no prophecy of Scripture is of any private interpretation, for prophecy never came by the will of man, but holy men of God spoke as they were moved by the Holy Spirit" (2 Peter 1:20-21).
---
REPRODUCTION & DISCLAIMERS: We are happy to grant permission for this article to be reproduced in part or in its entirety, as long as our stipulations are observed.