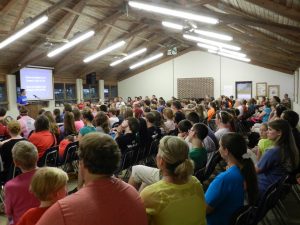 What will your children do this summer that will have a positive impact on their souls? What eternally important activities will they be involved in? Will they spend their summer glued to televisions, PlayStations©, and cell phones, or will they take the time to "grow in the grace and knowledge" of God?
Why not encourage your children and the youth of your local congregation to attend Apologetics Press's soul-strengthening Christian Evidences summer camp as they fellowship with Christians from around the country?
In previous summers, our themes have included "The Existence of God," "The Inspiration of the Bible," "The Reliability of the Bible," "Creation vs. Evolution," "The Flood," and "The Godhood and Greatness of Jesus." Lord willing, June 4-9, 2023, we will focus on "What You Need to Know to Protect Your Faith Before Graduation."
Camp Information
Eric Lyons of Apologetics Press directs AP's camp at Indian Creek Youth Camp (ICYC) in Oakman, Alabama (approximately 40 miles northwest of Birmingham). The camp is for 4th-12th graders. [NOTE: By "4th grade" we mean (a) the child must have completed the 3rd grade, and (b) he or she must turn 10 years old by December 31, 2023. By "12th grade," we mean a teenager may still attend camp in the summer following his or her high school graduation.]
The cost for AP camp can be found at http://indiancreekyouthcamp.org. All checks are to be made to "ICYC." [NOTE: AP receives no funding from camp fees. All fees go to ICYC to pay for essentials, such as food, electricity, water, etc. AP, however, would welcome any donations that Christians would graciously give to help make AP camp a great, faith-building, spiritually uplifting experience for approximately 260 campers and staff from all over the country.]
You can register your children on-line at www.indiancreekyouthcamp.org beginning February 15, 2023. In the past, AP camp has filled up very quickly. In fact, it is quite possible that the camp will fill up within the first 24-48 hours after registration opens. Please keep in mind that a camper's spot will be confirmed only after (1) he or she receives an e-mail confirmation from AP, and (2) a deposit is paid to ICYC. Also, please understand that though we love all ages of campers, due to the fact that older campers have fewer years left to attend camp, they will receive priority in the confirmation process (i.e., should the camp reach capacity within the first few days of the beginning of registration).

In addition to the classes, lectures, devotionals, and singings that campers participate in during the week, they are also treated to many other enjoyable experiences.
· For three hours every afternoon, campers have the freedom to play a number of sports, including soccer, flag football, basketball, ultimate frisbee, ping pong, and the ever-popular coneball. Campers can also visit the craft hut and use their imaginations to create a variety of crafts with the help of some very artistic counselors.
· After a hot afternoon, campers can head to the pool for a refreshing hour-long swim. (Boys and girls swim separately.)
· Evening activities include game-time at the gym and friendly competitions between cabins (e.g., "water wars") on the athletic fields.
Miscellaneous Camp Information
· Drop off is Sunday between 2-4 p.m. Pick up is on Friday morning by 10:00 a.m.
· Campers are not permitted to use electronic devices such as cell phones, iPads, computers, etc. during camp. If campers bring cell phones with them, they will be taken up by ICYC and returned to the camper on Friday morning.
· In addition to three great meals each day by wonderful volunteer cooks, campers will have access to at least two free canteen breaks (including a coke and at least one snack each day). There will also be a "trading post" open (at least once a day) that will be selling T-shirts, polos, hats, decals, plus candies and drinks. *Campers will only need money if they want something from the trading post.
· Campers are to dress modestly. One ICYC rule to keep in mind: "All shorts must come to the knees." Also, no tank tops, low-cut tops, or excessively tight clothing is allowed (e.g., no skintight yoga pants or leggings with without knee-length shorts).
· Boys and girls are separated for swim time at the pool, but not at the creek. If campers choose to swim at the creek (which is a lot of fun), shorts and colored shirts must be worn at all times. Life jackets are provided.
· ICYC has 15 different cabins for campers: seven cabins of girls and eight cabins of boys. Generally, there are two counselors per cabin. Campers are divided up among the cabins by ages. (Thus, 16-year-old campers do not share a cabin with 10-year-old campers.)
· ICYC has a "no PDA" policy.
· All medications (prescription and non-prescription) should be (1) put inside a zip-loc bag, (2) labeled with the camper's name, and (3) turned in to the camp nurse at check-in.
· For precautionary purposes, all campers and staff are checked for head lice upon entering camp on Sunday afternoon. (We highly recommend checking your children prior to camp just to make sure they don't have to be turned away upon arrival.) ICYC will not allow anyone to remain on campus with lice.
· As much as we would love for your child(ren) to come to camp, we ask that you please not allow them to attend if they feel sick. (Viruses can spread rapidly at camp, like they do at school.) Please allow them to get over their sickness for at least 48 hours before bringing them to camp. (As long as you call us, we can hold their bed open until they arrive–even if it is in the middle of the week.)
Things to Bring:
· A Bible, notebook, and pens/pencils
· Bedding: sleeping bag and/or twin sheets and a pillow
· Toothbrush, toothpaste, towels and washcloths, shower shoes, soap, shampoo, etc.
· Sunscreen and insect repellant
· Flashlight
Feedback (from previous AP Camps)
· "Another fantastic AP Camp Week at ICYC…. The combination of godly campers, teachers, staff, cooks, counselors and nurses was like a taste of heaven on earth. What a wonderful group of people!"
· "A thousand thanks to…all the members of the AP staff who worked diligently to provide an outstanding week [of camp]. My children talked non-stop when they arrived home about their experiences. We will not know the degree of impact on all participants this side of eternity."
· "I wanted to thank you so much for letting me be a part of last week…. I've been struggling so much with my faith, and to be honest I was giving up on it. The lessons taught last week and the examples you all have set have given me so much to think about, though, and have helped me realize I can't give up on something this important."
· "Home from Apologetics Press week at Indian Creek Youth Camp. Excellent lessons every day by outstanding men. The boys loved it and had a wonderful time."
· "I just want you to know that my 14 year old son and my 11 year old daughter talked non-stop to the car, in the car, from the car, through lunch, through the unloading process, through the first load of laundry, about their absolutely awesome week of camp!"
Sample Camp Schedule
· 7:20—Juniors Meet in Auditorium. Breakfast Follows.
· 7:45—Seniors Meet in Auditorium. Breakfast Follows.
· 8:30—Clean-Up Cabins/Grounds.
· 9:00-9:30—Class 1 (8th-12th—Auditorium; 4th-7th—Dining Hall)
· 9:30-9:40—10-Minute Break
· 9:40-10:10—Class 2 (8th-12th—Auditorium; 4th-7th—Dining Hall)
· 10:10-10:30—20-Minute Break (Canteen)
· 10:30-11:00—Class 3: Discussion/Q&A Class (Combined 4th-12th—Auditorium)
· 11:00—Assemble in Auditorium for Fun-Sing, Announcements, etc.
· 11:30-1:00—Lunch. Etc.
11:30—Dismiss Juniors for Lunch.
11:40-12:00—Seniors Remain in Auditorium for Singing. Lunch Follows.
· 12:30-4:30—Sports/Swimming/Crafts/Free Time.
· 4:40—Meet at Amphitheater for Mail Call, Daily Awards, Simon Says, etc.
· 4:45—Supper. (*Counselors and Seniors eat first in the evenings.)
· 6:45—Worship (in Auditorium)
· 7:45—Canteen and Free Time
· 8:30—Nightly Activity
· 9:30—Juniors return to cabins for clean-up/showers and a cabin devotional. Seniors gather for a devotional in the Dining Hall.