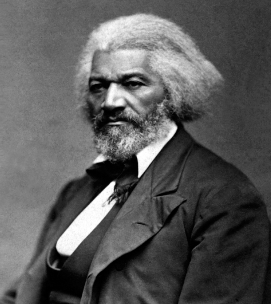 Philemon and Slavery
American abolitionist, editor, orator, author, statesman, and reformer, Frederick Douglass, himself a former slave, was invited to deliver a speech in 1852 (eight years before the Civil War) to a women's anti-slavery society in Rochester, New York. His assigned subject? "What, to the Slave, is the Fourth of July?" His remarks demonstrate forcefully that the Bible and the Christian religion were not to be blamed for the existence or perpetuation of slavery. In his brilliant oration, Douglass demonstrated that those "Christians" and churches in America at the time that used the Bible to sanction slavery were misinterpreting and misrepresenting it. He stated:
But the church of this country is not only indifferent to the wrongs of the slave, it actually takes sides with the oppressors. It has made itself the bulwark of American slavery, and the shield of American slave-hunters. Many of its most eloquent Divines [preachers—DM], who stand as the very lights of the church, have shamelessly given the sanction of religion and the Bible to the whole slave system. They have taught that man may, properly, be a slave; that the relation of master and slave is ordained of God; that to send back an escaped bondman to his master is clearly the duty of all the followers of the Lord Jesus Christ; and this horrible blasphemy is palmed off upon the world for Christianity…. Fellow-citizens! I will not enlarge further on your national inconsistencies. The existence of slavery in this country brands your republicanism as a sham, your humanity as a base pretence, and your Christianity as a lie…. Standing with God and the crushed and bleeding slave on this occasion, I will, in the name of humanity which is outraged, in the name of liberty which is fettered, in the name of the constitution and the Bible, which are disregarded and trampled upon, dare to call in question and to denounce, with all the emphasis I can command, everything that serves to perpetuate slavery—the great sin and shame of America! (1852, emp. added).
Douglass was insistent and adamant: to propagate the form of slavery in America at that time was to disregard and trample upon the Bible (and the Constitution!), and to misrepresent and deny the very essence of Christianity and the will of Christ.
Douglass surely understood the New Testament correctly. In a succinct personal note to a fellow Christian (Philemon), the apostle Paul presented a fascinating glimpse into the Christian attitude toward slavery. In a masterpiece of pathos, Paul blended together tender affection, encouraging commendation, unanswerable logic, heartfelt sympathy, and respectful persuasion to convince Philemon to exude Christian compassion.
In examining the successive thoughts that Paul offers in verses 1-15 and 18-25, one is apt to miss the primary point that the apostle was making. Stripping away the side points that he musters along the way in building his appeal allows the central purpose of the letter to come into view as a result of Paul's triple repetition of "receive him" in verses 12, 15, and 17. He folds the culminating objective in between the latter two verses. The climax is seen in his explicit allusion to the nature of the reception: to get Philemon to receive Onesimus back "no longer as a slave" (vs. 16).
Here is the real message of Philemon—and the Christian stance on slavery: God would have slaves not to be treated as slaves! This divine intention effectively eradicates the forms of slavery that are deemed objectionable. To treat a slave as an equal ("more than a slave"—vs. 16), and to treat him the way one wishes to be treated himself (Matthew 7:12), strips the institution of slavery of its objectionable traits. If already enslaved, who would not want to be the "slave" of a person who treats you as a dear, beloved brother? Paul's directives to masters elsewhere in the New Testament focus on this same necessity of being just, fair, impartial, and non-threatening (Ephesians 6:9; Colossians 4:1). Recognizing that slavery would continue in the Roman Empire until Christian principles were able to gradually permeate and infiltrate its institutions, Paul gave sensible advice to Corinthian Christians:
Let each one remain in the same calling in which he was called. Were you called while a slave? Do not be concerned about it; but if you can be made free, rather use it. For he who is called in the Lord while a slave is the Lord's freedman. Likewise he who is called while free is Christ's slave (1 Corinthians 7:20-22, emp. added).
A Christian can be a Christian anytime, anywhere. His commitment to Christ is unaffected by his environment or what others may do to him. If he can (ethically and scripturally) improve his physical circumstances, then certainly he is authorized to do so. But if not, "let each one remain in the same calling in which he was called," that is, one must fulfill one's pre-baptism (legitimate) obligations (which, in the case of slavery, may entail financial or other matters). The Christian's focus is to remain on being faithful to God—even in the midst of very unjust or inhumane circumstances. This is the consistent portrait given in the New Testament (e.g., Ephesians 6:5-8; Colossians 3:22-24). It certainly is no overstatement to insist that if Christianity, in its pure and accurate form, were implemented throughout the world, the evils of slavery would be eradicated.
REFERENCES
Douglass, Frederick (1852), Oration Delivered in Corinthian Hall, Rochester, http://books.google.com/books?id=1glyAAAAMAAJ&printsec=frontcover&dq=frederick+douglass&hl=en&sa=X&ei=cmlfT5zROISygwfG57yCCA&ved= 0CFcQ6AEwBg#v=onepage&q=frederick%20douglass&f=false.
---
REPRODUCTION & DISCLAIMERS: We are happy to grant permission for this article to be reproduced in part or in its entirety, as long as our stipulations are observed.