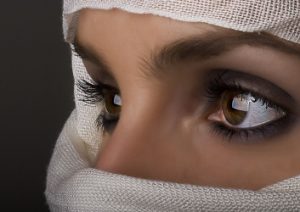 Islam Says a Husband May Beat His Wife
The politically correct climate of American culture is characterized by a host of self-contradictory and nonsensical viewpoints. One example is the way the left is vociferous in its support and defense of the spread of Islam via the construction of mosques and permission to teach about Islam in public schools. The left quickly steps forward and loudly condemns anyone who would dare to raise a finger of concern about the impact of Islam on the American way of life.
Yet, ironically, the social liberal, who disdains Christian morality, gives a "free pass" to Islam on some of the very issues for which it has viciously opposed the Christian moorings of American society. The "women's lib" movement of the 1960s is a glaring example. The fight for "women's rights" and the equal status of women in the home and on the job has been a hallmark of the liberal establishment. And yet, incredibly, the Islamic world has been known since its inception to consign women to an inferior status and to exert a degrading influence on them. How many female advocates of "women's lib" would be willing to wear what Muslim women are required to wear around the world? How many "liberated women" in America would be willing to be subjected to a polygamous husband who relegates her to one among several other of his wives? And how many American women would be in favor of implementing the Quran's teaching regarding the right of the husband to beat his wife? Read it for yourself in Mohammed Pickthall's celebrated Muslim translation:
Men are in charge of women, because Allah hath made the one of them to excel the other, and because they spend of their property (for the support of women). So good women are the obedient, guarding in secret that which Allah hath guarded. As for those from whom ye fear rebellion, admonish them and banish them to beds apart, and scourge them. Then if they obey you, seek not a way against them. Lo! Allah is ever High Exalted, Great (Surah 4:34, emp. added; cf. 4:11; 2:223,228,282; 38:45; 16:58-59; see also Brooks, 1995; Trifkovic, 2002, pp. 153-167).
A host of Islamic translations confirm this translation. The words in bold above are rendered in Abdullah Yusuf Ali's translation: "refuse to share their beds, (And last) beat them (lightly)." Ahmed Raza Khan's translation reads: "do not cohabit with them, and (lastly) beat them." Abul A'la Maududi has "remain apart from them in beds, and beat them." Wahiduddin Khan "refuse to share their beds, and finally hit them." Muhamad Abib Shakir has "leave them alone in the sleeping-places and beat them." Shaykh Muhammad Sarwar reads: "do not sleep with them and beat them." The Saheeh International translation reads: "forsake them in bed; and [finally], strike them." Hassan Qaribullah and Ahmed Darwish have: "desert them in the bed and smack them (without harshness)." Ali Quli Qarai's rendering reads: "keep away from them in the bed, and [as the last resort] beat them" (Tanzil Project, 2007-2014).
As if these instructions were not enough to awaken the sensibilities of the political/moral left, consider further the penalty enjoined by the Quran for the adulterer, keeping in mind that the practice of adultery is commonplace among the anti-Christian establishment of our nation (Bonewell, 2012).
The adulterer and the adulteress, scourge ye each one of them (with) a hundred stripes. And let not pity for the twain withhold you from obedience to Allah, if ye believe in Allah and the Last Day. And let a party of believers witness their punishment…. And those who accuse honourable women but bring not four witnesses, scourge them (with) eighty stripes and never (afterward) accept their testimony—They indeed are evildoers (Surah 24:2,4, emp. added).
Are those who believe Islam ought to be accommodated and encouraged to participate fully in the political and educational framework of the nation willing to allow Sharia law to become the law of the country?
REFERENCES
Ali, Abdullah Yusuf (1934), The Meaning of the Holy Quran (Beltsville, MD: Amana Publications), 2002 reprint.
Bonewell, Kelly (2012), "Adultery: Just the Statistics," The End of All Our Exploring, http://www.kellybonewell.com/psychology/adultery-just-the-statistics/.
Brooks, Geraldine (1995), Nine Parts of Desire (New York, NY: Anchor Books).
Tanzil Project (2007-2014), http://tanzil.net/#4:34.
Trifkovic, Serge (2002), The Sword of the Prophet (Boston, MA: Regina Orthodox Press).
---
REPRODUCTION & DISCLAIMERS: We are happy to grant permission for this article to be reproduced in part or in its entirety, as long as our stipulations are observed.