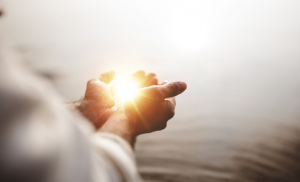 How Could Jesus be God if He was Seen by Man?
According to Jehovah's Witnesses, one of the reasons Jesus could not (and cannot) be God is because Jesus was seen by humankind. The official Web site of Jehovah's Witnesses (www.watchtower.org) indicates that "[a]s the Son of God, he [Jesus—EL] could not be God himself, for John 1:18 says: 'No one has ever seen God' " ("What Does the Bible Say…," 2000). The problem with such reasoning is two-fold.
First, it ignores the fact that man only saw Jesus ("the Word"—John 1:1) after "the Word became flesh and dwelt among us" (John 1:14). He came in a veiled form. No human has ever seen Jesus in His true image (i.e., as a spirit Being—John 4:24—in all His glory and splendor). In his letter to the church at Philippi, the apostle Paul mentioned that Christ—Who had existed in heaven "in the form of God"—"made Himself of no reputation," and took on the "likeness of men" (Philippians 2:6-7). Men saw an embodiment of God as Jesus dwelt here in a fleshly form. Men saw "the Word" that "became flesh." But no one has ever seen God's true, complete image (as a spirit Being).
The second problem with Jehovah's Witnesses' denial of Jesus' deity (based on the fact that "no one has ever seen God") is that their argument crumbles when Jehovah God's appearances to man are considered. Jehovah's Witnesses believe that Jehovah is God and "is the name of the true God only" ("Identifying…," 2002). According to their doctrine, Jehovah, not Christ, is God Almighty. Yet, man has seen Jehovah. Genesis chapter 18 records an occasion when "Jehovah appeared" to Abraham near Mamre (vs. 1). Jehovah spoke directly to Abraham (vs. 13), and the faithful servant of God "stood before the Lord" (vs. 22). The final verse of Genesis 18 states: "And Jehovah went his way, as soon as he had left off communing with Abraham. And Abraham returned unto his place" (vs. 33). If Jehovah's Witnesses were consistent with their argument, Jehovah could not be Almighty God because man has seen Jehovah. If John 1:18 somehow disqualifies Jesus from being God, it must also prohibit "Jehovah" from being God, because they both were seen. What Bible students must understand is that man has only seen manifestations of God (i.e, in human flesh, or in the midst of a burning bush—Exodus 3:2, etc.); he has never seen God (the Father or the Son) in His true spirit image.
[NOTE: If you would like to read further on the subject "Has Man Seen God?" and examine the alleged contradiction between such passages as John 1:18 and Exodus 33:11, click on the following link: https://www.apologeticspress.org/AllegedDiscrepancies.aspx?article=2682.] 
REFERENCES
"Identifying the True God Only," (2002), [On-line], URL: http://www.watchtower.org/library/g/1999/2/8/article_04.htm, originally appeared in Awake!, February 8, 1999.
"What Does the Bible Say About God and Jesus?" (2002), [On-line], URL: http://www.watchtower.org/library/ti/index.htm.
---
REPRODUCTION & DISCLAIMERS: We are happy to grant permission for this article to be reproduced in part or in its entirety, as long as our stipulations are observed.