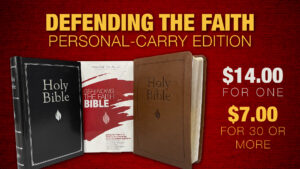 Giveaway Bibles to Buy in Bulk

Misc.
For the past four years, AP has been blessed to distribute our apologetics Defending the Faith Study Bible (and, Lord willing, we'll continue to do so for many years to come). Now, we would like to introduce you to the Defending the Faith Bible—personal-carry edition. While our study Bible is 2,500 pages and weighs nearly five pounds, this new, smaller Bible has 1,500 pages and weighs only two pounds. It contains the inspired Old and New Testaments (NKJV), summaries and outlines of each book of the Bible, full-color maps, and about 80 pages of foundational truth material, including reasons to believe in God, the Bible, and Jesus; cases of conversions; how a person gets "into" Christ; and the Church Christ died to save.
This new, carry-size edition has great potential as an evangelism tool, a gift Bible, a pew Bible that can be given to visitors, and a Bible that can be purchased in bulk and given away to mission points, at fair booths, to prisoners, for back-to-school backpack giveaways, to new Christians, and so much more.
We are excited, not so much that we will be able to sell individual Bibles for $14, but that those who order 30 or more of these smaller Bibles will receive them for only $7 each. We hope and pray that Christians and churches will purchase these beautiful, inexpensive Bibles in bulk and change the world with the powerful Gospel of Christ one soul at a time. (Please help us get the word out about these Bibles!)
---
REPRODUCTION & DISCLAIMERS: We are happy to grant permission for this article to be reproduced in part or in its entirety, as long as our stipulations are observed.