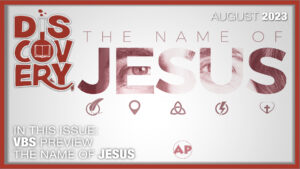 The Name of Jesus
If someone asked you the question, "What is your name?" I'm sure that you would immediately be able to give him an answer. Our names were given to us by our parents for a variety of reasons, and we have probably been aware of them for as long as we can remember. Our names are an important part of who we are, and they help identify us in many valuable ways.
But do you know what your name means? And even if you do, does the meaning of your name have any special significance when it comes to who you are? For example, if your name is Corbin, you may or may not know that the name comes from a French word that means "raven" and that it originally meant that you had dark hair. And even if you did know that, it might not be an accurate description of who you are as a person.
In the 1st century, the name "Jesus" was quite common among the Jews. It was the Greek form of the Hebrew name "Yeshua" (or Yehoshua) and equivalent to the name "Joshua." It literally means "Jehovah is salvation."
As common as the name may have been at the time, when God became flesh and took this name for Himself, it truly fulfilled its meaning.
In AP's next Vacation Bible School, we will be examining some of the many names given to Jesus in Scripture. We will be discovering and examining their meanings and significance as we deepen our understanding and appreciation for the Name of Jesus.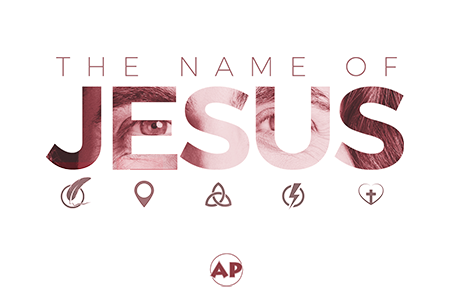 JESUS THE MESSIAH
One of the names used for Jesus in Scripture is "Messiah," which means "the anointed one." The Messiah had been predicted in many specific ways throughout the Old Testament, and Jesus was the fulfillment of those prophecies. In fact, there are hundreds of predictions about the coming Messiah in the pages of the Old Testament Scriptures, beginning as far back as Genesis 3:15—
"And I will put enmity between you and the woman, and between your seed and her Seed; He shall bruise your head, and you shall bruise His heel."
This simple prophecy foretold that the coming Messiah would, indeed, suffer at the hands of Satan (His "heel" would be "bruised"); however, this "anointed one" would also have the ultimate victory over the enemy in the end (Satan's "head" would be "bruised").
Within the pages of the Old Testament, we find Messianic prophecies (prophecies concerning the coming Messiah) about His birth, His death, His ancestry, His conception, and much more. When Jesus claimed to be the Messiah in John 4:26, He was claiming a powerful and meaningful name for Himself!
JESUS THE NAZARENE
Believe it or not, there are some people who do not think that Jesus was a real, historical person. These skeptics do not believe that Jesus actually existed, and they would put Him in the same category as any other fictional or mythological character. Did Jesus really exist in human form on Earth? Do we have any evidence of His existence?
He absolutely did, and we absolutely do.
Among the many proofs of Jesus' earthly existence, we have documented testimony from many of Jesus' enemies, verifying the fact that He lived, died, and rose from the dead as part of human history. Historians such as Tacitus, Suetonius, and Josephus—although none of them were Christians—all attest to the historicity of Jesus Christ.
In addition to these "hostile" testimonies, we also have the New Testament documents, which are the most consistent and accurate ancient historical documents in the world. These documents contain hundreds of references to Jesus as a real/historical person who lived a real life in a real place at a real time in history.
We are told in Matthew 2:23, "And He [Jesus] came and dwelt in a city called Nazareth, that it might be fulfilled which was spoken by the prophets, 'He shall be called a Nazarene.'" Of the many names that Jesus bore, the "Nazarene" is a reference to His place in history as a living and breathing resident of the historically attested small town of Nazareth.
JESUS THE LORD
But Jesus was so much more than a physical and historical person Who lived in the small town of Nazareth. While He was here on Earth, Jesus made some incredible claims about His identity. When He claimed to be the "Messiah" (John 4:26), the "Son of Man" (John 3:13-15), the "Son of God" (John 5:25), and "one with the Father" (John 10:30), He was claiming to be nothing less than God Himself. Although He was questioned and falsely accused of blasphemy, Jesus confirmed these claims in supernatural ways that left no doubt in the minds of honest observers that He was, indeed, the Lord.
In addition to His claims to be the Lord (which He miraculously confirmed), Jesus also accepted worship from men (which is something reserved only for God—Matthew 4:10), and lived a perfect and sinless life (Hebrews 4:15). As the Scriptures teach, Jesus is one-third of what we call the Trinity or Godhead, consisting of God the Father, God the Son, and God the Spirit (see Matthew 3:16-17; 28:19).
Among the many other names used for Jesus, He was, and still is, absolutely worthy of being called Jesus the Lord.
JESUS THE ALMIGHTY
One of the primary methods by which Jesus confirmed His claims to be the Lord was through His miracles. The many miracles of Jesus proved that His message—that He was the Son of God—could be accepted and believed. As Jesus said in John 10:25,37-38—
"The works that I do in My Father's name, they bear witness of Me…. If I do not do the works of My Father, do not believe Me; but if I do, though you do not believe Me, believe the works, that you may know and believe that the Father is in Me, and I in Him."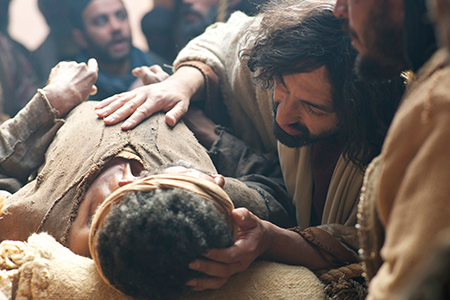 The miracles Jesus performed are powerful and believable evidence of His divine nature and His divine purpose. These miracles were various in nature and witnessed by thousands of people (John 5:3; Luke 5:17; etc.); they were acknowledged by His enemies (John 11:47; Luke 23:8; Matthew 12:24), recorded by multiple writers (Matthew, Mark, Luke, and John), presented as reasonable, rational facts (2 Peter 1:16; 1 John 1:1,3), and are not duplicated today.
We have amazing evidence in the New Testament that Jesus rightly bore the name of the Almighty!
JESUS THE SAVIOR
Ultimately, Jesus came to Earth for a specific purpose: "to seek and to save that which was lost" (Luke 19:10). When the angel announced His birth, he said to the shepherds, "Do not be afraid, for behold, I bring you good tidings of great joy which will be to all people. For there is born to you this day in the city of David a Savior, Who is Christ the Lord" (Luke 2:10-11).
Perhaps more than any other name that Jesus wears, the name "Savior" is personal. Jesus loves you so much that He left the glory of heaven, lived a perfect life, died a cruel death, and rose from the grave so that you could be saved from sin (John 3:16; Titus 3:4-7). His greatest desire is that you would someday come to know Him through obedience to the Gospel and be saved from the consequences of sin (2 Peter 3:9).
God has given all of us a plan for being saved, which involves:
hearing the Gospel (Romans 10:17),
believing in Jesus (John 3:16),
repenting of our sin (Luke 13:3),
confessing Jesus (Romans 10:9), and
being baptized for the forgiveness of our sins (Acts 2:38).
There are many names used in the Bible for Jesus, but these five names can give us a better idea of Who He was/is, why He came, and what He expects from us.
As Paul wrote in Philippians 2:9-11, "Therefore God also has highly exalted Him and given Him the name which is above every name, that at the name of Jesus every knee should bow, of those in heaven, and of those on earth, and of those under the earth, and that every tongue should confess that Jesus Christ is Lord, to the glory of God the Father."
If you want to learn more about THE NAME OF JESUS, make sure to check out our Vacation Bible School, coming in 2024!
---
REPRODUCTION & DISCLAIMERS: We are happy to grant permission for this article to be reproduced in part or in its entirety, as long as our stipulations are observed.