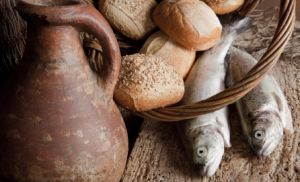 The Miracles of Christ—Many and Varied
One of the biblical proofs for the deity of Christ is the miracles that Jesus worked. And, we are asked to believe that Jesus is the Son of God not because He performed one or two marvelous deeds during His lifetime. To the contrary, "miracles cluster around the Lord Jesus Christ like steel shavings to a magnet" (Witmer, 1973, 130:132). The gospel accounts are saturated with a variety of miracles that Christ performed, not for wealth or political power, but that the world may be convinced that He was sent by the Father to bring salvation to mankind (cf. John 5:36; 10:37-38). As Isaiah prophesied, Jesus performed miracles of healing (Isaiah 53:4; Matthew 8:16-17). He cleansed a leper with the touch of His hand (Matthew 8:1-4), and healed all manner of sickness and disease with the word of His mouth (cf. John 4:46-54). One woman who had a hemorrhage for 12 years was healed immediately simply by touching the fringe of His garment (Luke 8:43-48). Similarly, on one occasion after Jesus came into the land of Gennesaret, all who were sick in all of the surrounding region came to Him, "and begged Him that they might only touch the hem of His garment. And as many as touched it were made perfectly well" (Matthew 14:34-36; Mark 3:10). Generally speaking, "great multitudes came to Him, having with them the lame, blind, mute, maimed, and many others; and they laid them down at Jesus' feet, and He healed them" (Matthew 15:30, emp. added). "He cured many of infirmities, afflictions…and to many blind He gave sight" (Luke 7:21, emp. added). Even Jesus' enemies confessed to His "many signs" (John 11:48).
Jesus not only exhibited power over the sick and afflicted, He also showed His superiority over nature more than once. Whereas God's prophet Moses turned water into blood by striking water with his rod (Exodus 7:20), Jesus simply willed water into wine at a wedding feast (John 2:1-11). He further exercised His power over the natural world by calming the Sea of Galilee during a turbulent storm (Matthew 8:23-27), by walking on water for a considerable distance to reach His disciples (Matthew 14:25-33), and by causing a fig tree to wither away at His command (Matthew 21:18-22). Jesus' supernatural superiority over the physical world (which He created—Colossians 1:16) is exactly what we would expect from One Who claimed to be the Son of God.
Jesus' miracles were not limited to the natural world, however. As further proof of His deity, He also revealed His power over the spiritual world by casting out demons. "They brought to Him many who were demon-possessed. And He cast out the spirits with a word" (Matthew 8:16, emp. added). Luke also recorded that "He cured many of…evil spirits" (Luke 7:21, emp. added). Mark recorded where Jesus once exhibited power over a man overwhelmed with unclean spirits, which no one had been able to bind—not even with chains and shackles; neither could anyone tame the demon-infested man (Mark 5:1-21). Jesus, however, cured him. Afterwards, witnesses saw the man with the unclean spirits "sitting at the feet of Jesus, clothed and in his right mind" (Luke 8:35-36). On several occasions, Jesus healed individuals who were tortured by evil spirits. And, "they were all amazed and spoke among themselves, saying, 'What a word this is! For with authority and power He commands the unclean spirits, and they come out'" (Luke 4:36).
Finally, Jesus performed miracles that demonstrated His power even over death. Recall that when John the Baptizer's disciples came to Jesus inquiring about His identity, Jesus instructed them to tell John that "the dead are raised" (Matthew 11:5). The widow of Nain's son had already been declared dead and placed in a casket when Jesus touched the open coffin and told him to "arise." Immediately, "he who was dead sat up and began to speak" (Luke 7:14-15). Lazarus had already been dead and buried for four days by the time Jesus raised him from the dead (John 11:1-44). Such a great demonstration of power over death caused "many of the Jews who had come to Mary, and had seen the things Jesus did" to believe in Him (John 11:45). What's more, Jesus' own resurrection from the dead was the climax of all of His miracles, and serves as perhaps the most convincing miracle of all (see Butt, 2002, 22:9-15).
In all, the gospel records contain some 37 specific supernatural acts that Jesus performed. If that number were to include such miracles as His virgin birth and transfiguration, and the multiple times He exemplified the ability to "read minds," and to know the past or future without having to learn of them through ordinary means (cf. John 4:15-19; 13:21-30; 2:25), etc., the number would reach upwards of 50. Indeed, the miracles of Christ were varied and numerous. He healed the blind, lame, sick, and leprous, as well as demonstrated power over nature, demons, and death. The apostle John, who recorded miracles of Christ "that you may believe that Jesus is the Christ, the Son of God, and that believing you may have life in His name" (John 20:31), also commented on how "Jesus did many other signs in the presence of His disciples, which are not written in this book" (20:30, emp. added). In fact, Jesus worked so many miracles throughout His ministry on Earth that, "if they were written one by one, I suppose that even the world itself could not contain the books that would be written" (John 21:25).
REFERENCES
Butt, Kyle (2002), "Jesus Christ—Dead or Alive?" Reason & Revelation, 22:9-15, February, [On-line], URL: https://apologeticspress.org/articles/121.
Witmer, John (1973), "The Doctrine of Miracles," Bibliotheca Sacra, 130:126-134, April.
---
REPRODUCTION & DISCLAIMERS: We are happy to grant permission for this article to be reproduced in part or in its entirety, as long as our stipulations are observed.