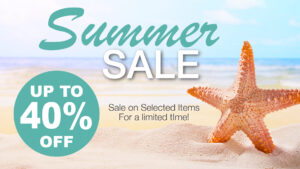 Summer Sale

Misc.
As a nonprofit organization, Apologetics Press exists to defend the Christian Faith by providing materials that promote knowledge of God. As such, the books, CDs, DVDs, tracts, etc. that we produce for public consumption are priced far below market value. We are fixated on spreading materials throughout world that we "might by all means save some" (1 Corinthians 9:22).
One of the unique characteristics of AP materials is that the vast majority of them never become obsolete or outdated since the content is timeless. The things pertaining to God are eternal. Even though we strive to price our materials below market value, we also try to distribute them in a variety of ways that lower our prices even further. Hence, we occasionally run sales in hopes of promoting additional distribution.
We have recently sorted through our warehouse inventory and are pleased to offer deep discounts on several of our books. If you've been intending to purchase one of these books for yourself, or perhaps to pass along to others, you now have a great opportunity to do so. These books contain information that is extremely helpful in responding to the culture war in which Christianity is under heavy attack. We urge you to equip yourself and your loved ones with decisive rebuttals to the most prevalent assaults on the religion of Christ.
---
REPRODUCTION & DISCLAIMERS: We are happy to grant permission for this article to be reproduced in part or in its entirety, as long as our stipulations are observed.