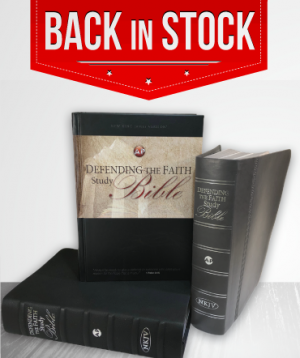 Study Bible in Leather & Italian Duotone / 40th Year of R&R

Misc.
When the AP Defending the Faith Study Bible was released last November, to our surprise our supply was quickly exhausted. We have recently received a new shipment to resupply our warehouse. We are excited to announce that, due to popular demand, we have added two additional covers in addition to the original hardback version. We have had numerous requests for Genuine Leather, and so in our ongoing efforts to please the public, we now have in stock a genuine leather version of the Study Bible. In addition, we thought many people would want something comparable to a soft, leather cover without having to pay the price that leather typically commands (although, at our non-profit prices, our leather Bible is priced considerably below the cost of other study Bibles!). As a nice alternative to Genuine Leather, we have also chosen to stock a soft cover version described by the manufacturer as "Italian Duotone." This Bible cover is exquisite—soft to the touch, beautiful in appearance, and pleasant to handle. The Genuine Leather cover is black and the Italian Duotone is charcoal gray. Despite our best efforts, we anticipate that our supply will be prematurely depleted, so do not delay in securing your copy.
<<Order Here>>
In the meantime, it's hard to believe that Reason & Revelation, our flagship monthly journal of Christian Evidences, has now entered its 40th year of continuous publication. R&R has remained a central teaching medium of Apologetics Press. In its pages appear articles on such topics as God's existence, the inspiration of the Bible, the creation/evolution controversy, the deity of Christ, ethics, the culture war, and so much more. The subject matter deals with relevant topics and current issues in a scholarly manner while seeking to remain understandable to the average person. Its appearance and layout are pleasing to the eye. What's most important about this publication is the critical content provided each month that serves to refute the forces of darkness that are enshrouding our culture with their unbelief and hostility toward God and His religion. This resource is of tremendous importance—not only to bolster and reinforce the thinking of the faithful—but to endeavor to reclaim those in your acquaintance who are being lured by the sinister propaganda that draws them away from God and His will. Please consider giving gift subscriptions to those who need help!
---
REPRODUCTION & DISCLAIMERS: We are happy to grant permission for this article to be reproduced in part or in its entirety, as long as our stipulations are observed.