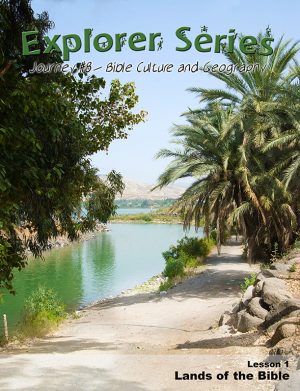 New Installment of the Explorer Series

Misc.
It was 2002 when Apologetics Press embarked on a monumental project to produce a Bible class curriculum to teach third through sixth graders Christian evidences. Those efforts yielded the Explorer Series, which takes curious young minds on fascinating journeys through God's Word and God's world. Journey #1 is titled "Christian Evidences." In the intervening 13 years, the scope of the series has expanded, and another seven journeys have been published:
Journey #2—"Faith Building Answers"
Journey #3—"Jesus: His Life and Teachings"
Journey #4—"Christian Values"
Journey #5—"Creation vs. Evolution"
Journey #6—"Survey of Scripture"
Journey #7—"The Church"
We are now pleased to announce the release of Journey #8—"Bible Culture & Geography." As always, each 8-page lesson is presented in the same format as Discovery, our popular magazine on Scripture and science for children. Every issue is printed in full color on enameled paper in an 8.5 x 11-inch format, and includes professional artwork and illustrations, as well as activities such as puzzles, word-finds, fill-in-the-blanks, true/false questions, and mazes—all of which are designed to reinforce the teaching found within each lesson.
The series is designed so Bible school teachers have the freedom to send individual lessons home with each child, or compile all 13 lessons into a notebook that can be used in class and then given to the child for future reference at the end of the quarter. Sets containing all 13 lessons are shrink-wrapped. Explorer Series is also used for 5th and 6th graders as a part of the A.P. Bible Class Curriculum (http://www.apcurriculum.com), and we recommend this series for use by Sunday morning and Wednesday night church Bible classes, home-schools, VBS classes, Christian schools, and summer camps. If you've not examined this series, you will be pleased with its high quality and practicality.
---
REPRODUCTION & DISCLAIMERS: We are happy to grant permission for this article to be reproduced in part or in its entirety, as long as our stipulations are observed.