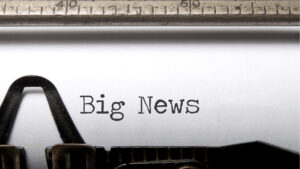 New Executive Director of AP
We are delighted to announce that Eric Lyons has been appointed to serve as the next Executive Director of AP—a transition that has been in the planning for several years. Dave Miller will continue to work at AP in the Bible department where he has served for the last 20+ years.
AP Board Announcement
The Board of Directors of Apologetics Press announces that Dr. Dave Miller will step down from his position of Executive Director, effective August 10, 2023. Dave's resignation is his decision and is respected by all. He will continue to serve AP as a staff writer and consultant. The tireless efforts and leadership of Dave Miller have and will continue to advance the Gospel at AP with sound Bible based teaching materials in modern media formats. The Board wishes to thank Dave for 21 years of service to AP with the last 18 years as Executive Director. During his tenure, AP has remained true to its founding ideals and most importantly to God's Word.
We are excited to announce the appointment of Eric Lyons as the new Executive Director of Apologetics Press.  Certainly, those who know AP know Eric. He has served as a full-time member of the AP Bible Department since 2001. He has authored or co-authored more than 20 books, writes for the AP website, produces effective and timely online videos, and frequently speaks at seminars and Gospel meetings around the country. Eric and Dave have been preparing for this transition for many years and we have no doubt that the work of Apologetics Press will continue in the tradition of excellence that began 44 years ago. 

The Board of Directors
---
REPRODUCTION & DISCLAIMERS: We are happy to grant permission for this article to be reproduced in part or in its entirety, as long as our stipulations are observed.