How Can a Person Know Which God Exists?
Several decades ago, the United States was overwhelmingly Christian in its religious persuasion. When naturalism and Darwinian evolution picked up speed in the U.S. and challenged the biblical story of man's origins—the perspective most held by Americans—apologists sprang up in response, dealing a death blow to the naturalistic religion in the minds of many. Once evolutionary theory had been dealt with, both biblically and scientifically, it was natural for many Americans to recognize that they had always been right—Christianity is the true religion.
Sadly, under the banner of "tolerance," the "politically correct" police have made significant inroads in compelling the American public, not only to tolerate, but to endorse and encourage pluralism and the proliferation of false religion in America. What was once an understood conclusion—that if evolution is wrong, then biblical Creation must be true—is now heavily challenged in America.
Nisroch: Assyrian god of agriculture
It has become a popular tactic among atheistic scoffers to mock Bible believers by sarcastically arguing that there's just as much evidence for the Flying Spaghetti Monster as there is for any god. Therefore, if intelligent design doctrine deserves time in the classroom, so does the doctrine of the Church of the Flying Spaghetti Monster—the Pastafarians (cf. Langton, 2005; Butt, 2010, p. 12). At the University of South Carolina, a student organization made up of Pastafarians was responsible for sponsoring the debate held between A.P.'s Kyle Butt and popular atheist, Dan Barker (Butt, 2010).
One such scoffer approached me awhile back after one of the sessions of my evolution seminar—a biology professor from the local university in the city where I was speaking. His quibble was a fair one: "Even if you're right that naturalistic evolution/atheism is false, you still haven't proven which God exists. You haven't proven it's the God of the Bible. Why couldn't it be Allah? Or [sarcastically] the Flying Spaghetti Monster?"
It is true that many times when apologists discredit naturalism and show that the evidence points to supernaturalism, they do not necessarily always take the next step and answer how we arrive specifically at the God of the Bible as the one true God. Perhaps the main reason, again, is because the answer was once so obvious that the additional step did not need to be taken. People already had faith in the Bible, and they only needed someone to answer an attack on its integrity. Upon answering it, they went back to their faith in Christianity comfortably. But as naturalism and pluralism have eroded the next generation, and Bible teaching—the impetus for developing faith (Romans 10:17)—has declined, Christianity is no longer a given.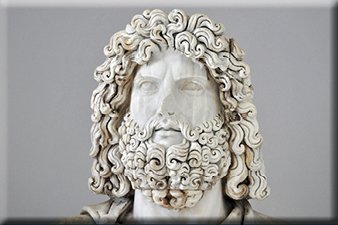 Jupiter: Roman god of light and sky, and protector of the state and its laws
Many in Christendom would respond to the professor's questions by saying, "You just have to have faith. You just have to take a leap and accept the God of the Bible. You don't have to have tangible evidence." That reaction, of course, is exactly how scoffers want you to answer. Their response: "Aha! You don't have proof that God exists. So why should I believe in Him? I might as well pick one that suits me better or make up my own god to serve."
The Bible simply does not teach that one should accept God without evidence. We should test or prove all things, and only believe those things that can be sustained with evidence (1 Thessalonians 5:21). We should not accept what someone tells us "on faith," because many teach lies; they should be tested to see if their claims can be backed with evidence (1 John 4:1). The truth should be searched for (Acts 17:11). It can be known (John 8:32). God would not expect us to believe that He is the one true God without evidence for that claim.
While there are different ways to answer the question posed by the professor, the most direct and simple answer is that the Bible contains characteristics which humans could not have produced. If it can be proven that a God exists and that the Bible is from God, then logically, the God of the Bible is the true God. It is truly a sad commentary on Christendom at large that the professor, as well as the many individuals that are posing such questions today, have not heard the simple answer about the nature of God's divine Word.
After taking a moment to recover from the fact that he clearly had never experienced anyone responding rationally to his criticisms, the professor said, "Really? [pause] I'd like to see that evidence." I pointed him to our book that summarizes the mounds of evidence that testify to the inspiration of the Bible (cf. Butt, 2007), and although he said he did not want to support our organization with a purchase, he allowed an elder at the church that hosted the event to give it to him as a gift.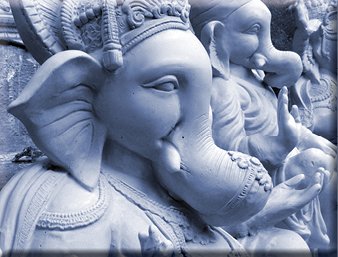 Ganesh: Hindu god of wisdom, knowledge, and new beginnings
If you have not studied the divine qualities of the Bible, or are not prepared to carry on a discussion with others about the inspiration of the Bible, might I recommend to you that you secure a copy of Behold! The Word of God through our Web store immediately. Consider also getting the free pdf version in the "PDF-Books" section of our Web site, browsing the "Inspiration of the Bible" category on our Web site, or at the very least, order a back issue of our Reason & Revelation article titled "3 Good Reasons to Believe the Bible is from God" (Butt and Lyons, 2015). Consider also those friends, loved ones, and even enemies that might benefit from a copy. The professor's question is one of the most pivotal questions one can ask today, and the Lord's army must be armed with the truth to be able to aid those seeking it.
REFERENCES
Butt, Kyle (2007), Behold! The Word of God (Montgomery, AL: Apologetics Press).
Butt, Kyle (2010), A Christian's Guide to Refuting Modern Atheism (Montgomery, AL: Apologetics Press).
Butt, Kyle and Eric Lyons (2015), "3 Good Reasons to Believe the Bible is from God," Reason & Revelation, 35[1]:2-11.
Langton, James (2005), "In the Beginning There Was the Flying Spaghetti Monster," The Telegraph, September 11, http://www.telegraph.co.uk/news/worldnews/northamerica/usa/1498162/In-the-beginning-there-was-the-Flying-Spaghetti-Monster.html.
---
REPRODUCTION & DISCLAIMERS: We are happy to grant permission for this article to be reproduced in part or in its entirety, as long as our stipulations are observed.