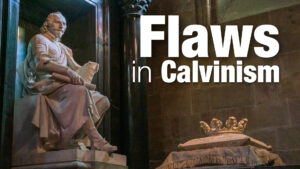 Flaws In Calvinism
John Calvin (1509-1564) was a French theologian during the Protestant Reformation whose system of Christian theology, primarily expressed in his Institutes of the Christian Religion, has exerted tremendous influence throughout the Christian world for nearly five centuries. The central tenets of his thinking have been summarized under the acrostic TULIP.
Total Depravity = All men have inherited the sin of Adam through their parents and are morally unable to choose to follow God and be saved because of their own depraved, sinful nature which extends to every part of their personality.
Bible Responses
Ezekiel 18:19-23—"Yet you say, 'Why should the son not bear the guilt of the father?' Because the son has done what is lawful and right, and has kept all My statutes and done them, he shall surely live. The soul who sins shall die. The son shall not bear the guilt of the father, nor the father bear the guilt of the son. The righteousness of the righteous shall be upon himself, and the wickedness of the wicked shall be upon himself…. 'Do I have any pleasure at all that the wicked should die?' says the Lord GOD, 'and not that he should turn from his ways and live?'"
Ezekiel 28:15—"You were perfect in your ways from the day you were created, till iniquity was found in you."
Psalm 106:37-38—"They even sacrificed their sons and their daughters to demons, and shed innocent blood, the blood of their sons and daughters."
Zechariah 12:1—"Thus says the LORD, who stretches out the heavens, lays the foundation of the earth, and forms the spirit of man within him."
Matthew 18:2-3—"Then Jesus called a little child to Him, set him in the midst of them, and said, 'Assuredly, I say to you, unless you are converted and become as little children, you will by no means enter the kingdom of heaven.'"
Matthew 19:14—"But Jesus said, 'Let the little children come to Me, and do not forbid them; for of such is the kingdom of heaven.'"
Romans 7:9—"I was once alive apart from the Law; but when the commandment came, sin became alive and I died."
Unconditional Election = God chose from eternity to save certain people, not based upon any foreseen virtue, faith, or anticipated acceptance of the Gospel. God chose to extend mercy to those He has specifically chosen and to withhold mercy from those not chosen. Those chosen receive salvation through Christ alone. Those not chosen receive wrath and damnation.
Bible Responses
Luke 13:3—"I tell you, no; but unless you repent you will all likewise perish."
John 3:16—"For God so loved the world that He gave His only begotten Son, that whoever believes in Him should not perish but have everlasting life."
John 8:24—"Therefore I said to you that you will die in your sins; for if you do not believe that I am He, you will die in your sins."
Acts 10:34-35—"Then Peter opened his mouth and said: 'In truth I perceive that God shows no partiality. But in every nation whoever fears Him and works righteousness is accepted by Him.'"
Romans 2:5-11—"God…will render to each one according to his deeds: eternal life to those who by patient continuance in doing good seek for glory, honor, and immortality; but to those who are self-seeking and do not obey the truth, but obey unrighteousness—indignation and wrath, tribulation and anguish, on every soul of man who does evil, of the Jew first and also of the Greek; but glory, honor, and peace to everyone who works what is good, to the Jew first and also to the Greek. For there is no partiality with God."
1 Peter 1:17—"And if you call on the Father, who without partiality judges according to each one's work, conduct yourselves throughout the time of your stay here in fear."
Revelation 22:17—"Whoever desires, let him take the water of life freely."
Limited Atonement = Christ died only for those whom God specifically pre-decided to save—the elect—but not for any others.
Bible Responses
1 Timothy 2:3-4—"For this is good and acceptable in the sight of God our Savior, who desires all men to be saved and to come to the knowledge of the truth."
1 Timothy 2:5-6—"For there is one God and one Mediator between God and men, the Man Christ Jesus, who gave Himself a ransom for all."
Titus 2:11-12—"For the grace of God that brings salvation has appeared to all men, teaching us that, denying ungodliness and worldly lusts, we should live soberly, righteously, and godly in the present age."
1 John 2:2—"And He Himself is the propitiation for our sins, and not for ours only but also for the whole world."
John 3:17—"For God did not send His Son into the world to condemn the world, but that the world through Him might be saved."
2 Peter 3:9—"The Lord is not slack concerning His promise, as some count slackness, but is longsuffering toward us, not willing that any should perish but that all should come to repentance."
Acts 10:34—"God shows no partiality."
Romans 2:11—"For there is no partiality with God."
Irresistible Grace = God's saving grace is applied to those whom He has determined to save (the elect), overcoming their resistance to the call of the Gospel, bringing them to a saving faith. This means that when God sovereignly purposes to save someone, that individual certainly will be saved (even against his will if necessary). This purposeful influence of God's Holy Spirit, Who creates faith within the individual, cannot be resisted.
Bible Responses
Deuteronomy 30:19—"I call heaven and earth as witnesses today against you, that I have set before you life and death, blessing and cursing; therefore choose life."
Joshua 24:15—"Choose for yourselves this day whom you will serve, whether the gods which your fathers served that were on the other side of the River, or the gods of the Amorites, in whose land you dwell. But as for me and my house, we will serve the LORD."
Luke 7:30—"But the Pharisees and lawyers rejected the will of God for themselves, not having been baptized by him."
John 12:42-43—"Nevertheless even among the rulers many believed in Him, but because of the Pharisees they did not confess Him, lest they should be put out of the synagogue; for they loved the praise of men more than the praise of God."
Acts 7:51—"You stiffnecked and uncircumcised in heart and ears! You always resist the Holy Spirit; as your fathers did, so do you."
Acts 13:46—"Then Paul and Barnabas grew bold and said, 'It was necessary that the word of God should be spoken to you first; but since you reject it, and judge yourselves unworthy of everlasting life, behold, we turn to the Gentiles.'"
Perseverance of the Saints = Since God is sovereign and His will cannot be frustrated by humans or anything else, those whom God has called into communion with Himself will continue in faith until the end. They cannot be eternally lost.
Bible Responses
Galatians 5:4—"You [Christians] have become estranged from Christ, you who attempt to be justified by law; you have fallen from grace."
2 Peter 2:20-22—"For if, after they have escaped the pollutions of the world through the knowledge of the Lord and Savior Jesus Christ, they are again entangled in them and overcome, the latter end is worse for them than the beginning. For it would have been better for them not to have known the way of righteousness, than having known it, to turn from the holy commandment delivered to them. But it has happened to them according to the true proverb: 'A dog returns to his own vomit,' and, 'a sow, having washed, to her wallowing in the mire.'"
Hebrews 4:11—"Let us therefore be diligent to enter that rest, lest anyone fall according to the same example of disobedience."
Hebrews 6:4-6—"For it is impossible for those who were once enlightened, and have tasted the heavenly gift, and have become partakers of the Holy Spirit, and have tasted the good word of God and the powers of the age to come, if they fall away, to renew them again to repentance, since they crucify again for themselves the Son of God, and put Him to an open shame."
Hebrews 10:38-39—"'Now the just shall live by faith; but if anyone draws back, My soul has no pleasure in him.' But we are not of those who draw back to perdition, but of those who believe to the saving of the soul."
James 5:19-20—"Brethren, if anyone among you wanders from the truth, and someone turns him back, let him know that he who turns a sinner from the error of his way will save a soul from death and cover a multitude of sins."
Revelation 2:5—"Remember therefore from where you have fallen; repent and do the first works, or else I will come to you quickly and remove your lampstand from its place—unless you repent."
Revelation 3:5—"He who overcomes shall be clothed in white garments, and I will not blot out his name from the Book of Life; but I will confess his name before My Father and before His angels."
Revelation 22:19—"If anyone takes away from the words of the book of this prophecy, God shall take away his part from the Book of Life."
---
REPRODUCTION & DISCLAIMERS: We are happy to grant permission for this article to be reproduced in part or in its entirety, as long as our stipulations are observed.