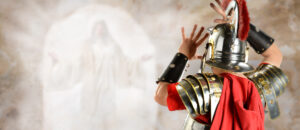 El intento de suicidio del carcelero romano
La historicidad del contenido de la Biblia, y la exactitud bíblica impresionante de los hechos que ahora son parte de los anales de la historia antigua, son evidencia contundente de su origen sobrenatural. Por ejemplo, considere la ocasión en que Pablo y Silas fueron encarcelados en la ciudad romana de Filipos (Hechos 16). Cerca de la medianoche, mientras ellos cantaban himnos a Dios, un terremoto (Lucas dice que fue un «gran terremoto»; vs. 26) sacudió la prisión, causando que todas las puertas se abrieran y que las cadenas de los prisioneros se soltaran. Al levantarse, el carcelero vio que las puertas de la prisión estaban abiertas, y concluyó con temor que los prisioneros habían escapado. Por tanto, «sacó la espada y se iba a matar» (Hechos 16:27). ¿Por qué? Es cierto que era terrible dejar que los prisioneros escaparan, pero ¿merecía esto cometer suicidio?
La evidencia histórica indica que se requería que los carceleros romanos asumieran responsabilidad personal por los prisioneros que se les encomendaba. Se puede ver este hecho en el texto cuando se informa que los «magistrados»1 de la ciudad mandaron «al carcelero que los guardase con seguridad. El cual, recibido este mandato, los metió en el calabozo de más adentro, y les aseguró los pies en el cepo» (Hechos 16:23-24). Este mandato era algo serio. La negligencia en este punto significaba la muerte inevitable, tal vez por medio de la tortura lenta y dolorosa.
Sin duda, en armonía con tal protocolo romano, cuando en otra ocasión el apóstol Pedro escapó de la cárcel, el rey Herodes interrogó a los soldados y luego «ordenó llevarlos a la muerte» (Hechos 12:19). De igual manera, cuando Pablo era llevado a Roma con otros prisioneros, la embarcación llegó a naufragar, así que los soldados romanos que custodiaban a los prisioneros planearon matarlos para que ninguno de ellos escapara (Hechos 27:42). Pero ya que Pablo se había hecho amigo del centurión, entonces el plan de los soldados fue frustrado.
Tales casos ilustran la ley romana en cuanto a la «custodia de los criminales» (de custodia reorum), la cual requería que el carcelero enfrentara el mismo castigo que debía ser impuesto en el criminal que escapaba.2 Por ende, en vez de enfrentar desgracia y ejecución dolorosa, el carcelero decidió poner fin a su vida. El código romano de honor requería esto.3 Debido a la gracia de Dios y la diligencia y amor de Pablo por las almas perdidas, este pagano al borde del suicidio llegó al cristianismo.
Publicado el 20 de febrero de 2023 en www.ebglobal.org. Traducido por Moisés Pinedo. Título original en inglés, «Roman jailer's attempted suicide», en www.apologeticspress.org.
Notas finales
1 El griego es strategoi, el término que los historiadores griegos usaban para hacer referencia al oficio romano y/o militar de un pretor. Esta es otra prueba de la exactitud histórica de Lucas.
2 Vea Frederick Sawyer, «Ley romana ilustrada en el Nuevo Testamento» [«Roman law as illustrated in the New Testament»], The Sunday at Home Family Magazine (Londres: Religious Tract Society), 29.1490 (1882): 726, 18 de noviembre; W. J. Conybeare y J.S. Howson, La vida y epístolas de san Pablo [The life and epistles of st. Paul] (Londres: Longmans, Green, & Co., 1893), 236-237; R. J. Knowling, El testamento griego del expositor: Los Hechos de los Apóstoles [The expositor's Greek testament: The Acts of the Apostles], ed. W. Robertson Nicoll (Grand Rapids, MI: Eerdmans), 2:351; William Ramsay, Pablo: el viajero y ciudadano romano [Paul the traveler and the Roman citizen] (Grand Rapids, MI: Baker, 1897), 222, 1701; Matthew Henry, Una exposición del Antiguo y del Nuevo Testamento [An exposition of the Old and New Testament] (Londres: Joseph Ogle Robinson, 1828), 3:839; Carl Ludwig von Bar, Una historia de la Ley Criminal Continental [A history of Continental Criminal Law], trad. Thomas Bell (Boston, MA: Little, Brown, & Co., 1916), 47; R. C. H. Lenski, La interpretación de los Hechos de los Apóstoles [The interpretation of the Acts of the Apostles] (Minneapolis, MN: Augsburg, 1961), 676.
3 W. McGarvey, Nuevo comentario de los Hechos de los Apóstoles [New commentary on Acts of Apostles] (Cincinnati, OH: Standard, 1892), 2:101.
---
REPRODUCTION & DISCLAIMERS: We are happy to grant permission for this article to be reproduced in part or in its entirety, as long as our stipulations are observed.