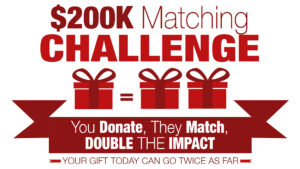 Donate
$200K Matching Challenge
The Lord has blessed AP over the years with such wonderful support from our donors. Because of selfless individuals, AP has been able to provide materials that assist in accomplishing the missions of the Kingdom. It does not escape us that we are heavily dependant on financial support provided by individuals like yourself. In fact, it gives us great joy that we are able to work side-by-side in this service, each playing a crucial part.
We are pleased to announce that AP has been given a unique opportunity and challenge. A pledge of $200,000 has been made as a matching campaign. That is, for every dollar we raise, a donor will match that dollar, essentially doubling our potential for funding and increasing our ability to work for the Kingdom. From now through December 31st, we will be working tirelessly to raise the promised 200K in order to receive the maximum amount pledged.
Here are some ideas:
Pray for AP, specifically, that we can reach our goal.
Talk with your congregation about a one-time gift (maybe even becoming a monthly contributor).
Speak with friends and family. If you do not have the means to contribute, you might know others who do. Much like Andrew brought others to see Jesus, you could bring this opportunity to your friends and family.
How to donate:
Checks can be made to "Apologetics Press" and mailed to:
Apologetics Press
230 Landmark Dr.
Montgomery, AL 36117
Remember to include a note indicating that the donation is for the "200K matching."
You can donate online using the button below.
If you need any assistance, you can call us Monday – Friday, 8:00 – 5:00 CST (334) 272-8558
---
REPRODUCTION & DISCLAIMERS: We are happy to grant permission for this article to be reproduced in part or in its entirety, as long as our stipulations are observed.