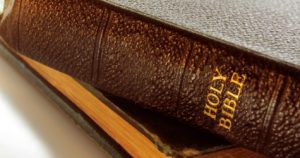 Deuteronomy 22:28-29 and Rape
One prevalent idea in skeptical circles is that the God of the Old Testament is cruel and condones practices that are immoral. Each example that skeptics have provided to prove this thesis, however, has been shown to be false. We see time and again that the God of the Old Testament is the same God of love that we observe in the life and personality of Jesus Christ. One passage that is incorrectly used to impugn God's character is Deuteronomy 22:28-29. Moses wrote:
If a man finds a young woman who is a virgin, who is not betrothed, and he seizes her and lies with her, and they are found out, then the man who lay with her shall give to the young woman's father fifty shekels of silver, and she shall be his wife because he has humbled her; he shall not be permitted to divorce her all his days.
According to the skeptic, these verses teach that a man who rapes a woman gets to have her as his wife. The skeptic then demands that any God who would reward a rapist with the woman he rapes is wicked and immoral. Thus the God of the Bible cannot be the loving God Christians say He is.
The reason the skeptic at first glance seems to have something of a case is simply because most English translations of these verses do not accurately render the original intent of the Hebrew. To be fair, this issue causes even those who are not skeptically minded some difficulty. When most English speakers hear that a person has "seized" another person, we necessarily jump to the conclusion that it is a violent action against the will of the other person. This problem has been aggravated by the fact that some translations inaccurately and mistakenly translate the word as "rape." The truth is, however, the Hebrew word in this case translated "seizes" (tapas) can mean many things. Here are some examples of the way it is translated in Deuteronomy 22:28 in several different English translations:
"lay hold on her" (ASV)
"taking her" (DRA)
"and takes her" (NLV/NAB)
"and hath caught her" (YLT)
By looking at other passages that use the word, we can see that the word tapas sometimes has nothing to do with force, and therefore nothing to do with rape. As Greg Bahnsen has written:
The Hebrew word tapas ("lay hold of her," emphasized above) simply means to take hold of something, grasp it in hand, and (by application) to capture or seize something. It is the verb used for "handling" the harp and flute (Gen. 4:21), the sword (Ezek. 21:11; 30:21), the sickle (Jer. 50:16), the shield (Jer. 46:9), the oars (Ezek. 27:29), and the bow (Amos 2:15). It is likewise used for "taking" God's name (Prov. 30:9) or "dealing" with the law of God (Jer. 2:8). Joseph's garment was "grasped" (Gen. 39:12; cf. 1 Kings 11:30), even as Moses "took" the two tablets of the law (Deut. 9:17)… [T]he Hebrew verb "to handle, grasp, capture" does not in itself indicate anything about the use of force (italics in orig.).
In truth, we use English words in this way on a regular basis. For instance, a brief look at the English word "take" illustrates the point. You can take someone's cookie, or take a person's wife, or take a bride to be your wife. The idea of force is not inherent in the word at all. If you take a person in your arms, what have you done? Or if a young man takes a young woman to be his wife, is there force involved? No. Also, think about the English word "hold." You can take hold of something in a number of ways. We often say that a woman will hold the child in her arms, or a bridegroom takes a bride to "have and to hold." The Hebrew word tapas is acting in exactly the same way as the English words "hold" and "take" are.
In addition, it is clearly evident from the immediate context of Deuteronomy 22 that rape is not being discussed in verses 28-29. We know that for two primary reasons. First, verses 25-27 give a clear instance in which rape is being discussed. In that case, a man raped a woman, she "cried out" (v. 27), but she was in the country and no one was there to help her. The text says that the man who committed the crime "shall die" (v. 25), but the Israelites were supposed to "do nothing to the young woman" since "there is in the young woman no sin worthy of death" (v. 26). It is of great interest that in this clear case of rape, the text uses a completely different word. The word translated "forces her" in verse 25 is the Hebrew word chazaq and yet in verse 28, the verb has been intentionally changed to tapas (see Shamoun, 2015). Second, the natural reading of verses 28-29 makes it evident that both parties are guilty of at least some of the blame. Notice that at the end of verse 28 the text says, "and they are found out." When the passage discusses the obvious case of rape, the text specifically only mentions the man in verse 25 when it says "then only the man who lay with her," and conspicuously leaves out any indication of "they" being involved in the sin. Dr. Bahsen compares Deuteronomy 22:28-29 to Exodus 22:16, which reads, "If a man entices a virgin who is not betrothed, and lies with her, he shall surely pay the bride-price for her to be his wife" (1992). Notice that in this verse in Exodus, there is no force and both parties shoulder some of the guilt.
The practical value of God's instruction in Deuteronomy 22:28-29 is easy to see. A man has sexual intercourse with a young woman who is not betrothed to anyone. There is no force involved, and it is not rape. But their action has been discovered. Now, who in the land of Israel wanted to marry a young girl who has not kept herself pure? The man cannot walk away from his sin. He has put the young woman in a very difficult life situation, in which there would be few (or no) other men who would want to marry her. Since it was often the case that women had an extremely difficult time financially without the help of a husband, this would be even more devastating to the young woman. God holds both the parties accountable, instructing them to get married and stay together, both suffer the shame, and work through the difficulties that they have brought on themselves. Nothing could be more moral, loving, and wise than these instructions. Once again, the skeptical charge against God's love is without foundation.
REFERENCES
Bahnsen, Greg (1992), "Premarital Sexual Relations: What is the Moral Obligation When Repeated Incidents are Confessed," Covenant Media Foundation, http://www.cmfnow.com/articles/pe152.htm.
Shamoun, Sam (2015), "The Old Testament and Rape," http://www.answering-islam.org/Shamoun/ot_and_rape.htm.
---
REPRODUCTION & DISCLAIMERS: We are happy to grant permission for this article to be reproduced in part or in its entirety, as long as our stipulations are observed.