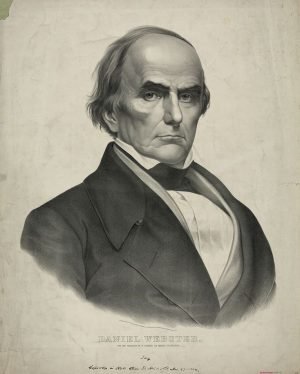 Daniel Webster 1802 July 4th Oration
[NOTE: Daniel Webster (1782-1852) was born during the Founding Era, graduated from Dartmouth and served in the U.S. House and U.S. Senate, and as U.S. Secretary of State. Before becoming widely recognized as a prominent statesman, lawyer, and politician, he delivered a 4th of July Oration in 1802 in Fryeburg, New Hampshire. The following are excerpts from that long lost speech rediscovered 80 years later. Observe, especially, the bolded sections that anticipated our current circumstances as a nation.]
Fellow-Citizens—It is at the season when nature hath assumed her loveliest apparel that the American people assemble in their several temples to celebrate the birthday of their nation. Arrayed in all the beauties of the year, the Fourth of July once more visits us. Green fields and a ripening harvest proclaim it, a bright sun cheers it, and the hearts of freemen bid it welcome. Illustrious spectacle! Six millions of people this day surround their altars, and unite in an address to Heaven for the preservation of their rights. Every rank and every age imbibes the general spirit. From the lisping inhabitant of the cradle to the aged warrior whose gray hairs are fast sinking in the western horizon of life, every voice is, this day, tuned to the accents of LIBERTY! WASHINGTON! MY COUNTRY!
Festivals established by the world have been numerous. The coronation of a king, the birth of a prince, the marriage of a princess, have often called wondering crowds together. Cities and nations agree to celebrate the event which raises one mortal man above their heads, and beings called men stand astonished and aghast while the pageantry of a monarch or the jewelled grandeur of a queen poses before them. Such a festival, however, as the Fourth of July is to America, is not found in history; a festival designed for solemn reflection on the great events that have happened to us; a festival in which freedom receives a nation's homage, and Heaven is greeted with incense from ten thousand hearts….
To preserve the government we must also preserve a correct and energetic tone of morals. After all that can be said, the truth is that liberty consists more in the habits of the people than in anything else. When the public mind becomes vitiated and depraved, every attempt to preserve it is vain. Laws are then a nullity, and Constitutions waste paper. There are always men wicked enough to go any length in the pursuit of power, if they can find others wicked enough to support them. They regard not paper and parchment. Can you stop the progress of a usurper by opposing to him the laws of his country? then you may check the careering winds or stay the lightning with a song. No. Ambitious men must be restrained by the public morality: when they rise up to do evil, they must find themselves standing alone. Morality rests on religion. If you destroy the foundation, the superstructure must fall. In a world of error, of temptation, of seduction; in a world where crimes often triumph, and virtue is scourged with scorpions—in such a world, certainly, the hope of an hereafter is necessary to cheer and to animate. Leave us, then, the consolations of religion. Leave to man, to frail and feeble man, the comfort of knowing, that, when he gratifies his immortal soul with deeds of justice, of kindness, and of mercy, he is rescuing his happiness from final dissolution and laying it up in Heaven.
Our duty as citizens is not a solitary one. It is connected with all the duties that belong to us as men. The civil, the social, the Christian virtues are requisite to render us worthy the continuation of that government which is the freest on earth. Yes, though the world should hear me, though I could fancy myself standing in the congregation of all nations, I would say: Americans, you are the most privileged people that the sun shines on. The salutary influences of your climate are inferior to the salutary influences of your laws. Your soil, rich to a proverb, is less rich than your Constitution. Your rivers, large as the oceans of the old world, are less copious than the streams of social happiness which flow around you. Your air is not purer than your civil liberty, and your hills, though high as heaven and deep as the foundations of the earth, are less exalted and less firmly founded than that benign and everlasting religion which blesses you and shall bless your offspring. Amidst these profuse blessings of nature and of Providence, beware! Standing in this place, sacred to truth, I dare not undertake to assure you that your liberties and your happiness may not be lost. Men are subject to men's misfortunes. If an angel should be winged from Heaven, on an errand of mercy to our country, the first accents that would glow on his lips would be, Beware! be cautious! you have everything to lose; you have nothing to gain. We live under the only government that ever existed which was framed by the unrestrained and deliberate consultations of the people. Miracles do not cluster. That which has happened but once in six thousand years cannot be expected to happen often. Such a government, once gone, might leave a void, to be filled, for ages, with revolution and tumult, riot and despotism. The history of the world is before us. It rises like an immense column, on which we may see inscribed the soundest maxims of political experience. These maxims should be treasured in our memories and written on our hearts. Man, in all countries, resembles man. Wherever you find him, you find human nature in him and human frailties about him. He is, therefore, a proper pupil for the school of experience. He should draw wisdom from the example of others—encouragement from their success, caution from their misfortunes. Nations should diligently keep their eye on the nations that have gone before them. They should mark and avoid their errors, not travel on heedlessly in the path of danger and of death while the bones of their perished predecessors whiten around them.
---
REPRODUCTION & DISCLAIMERS: We are happy to grant permission for this article to be reproduced in part or in its entirety, as long as our stipulations are observed.