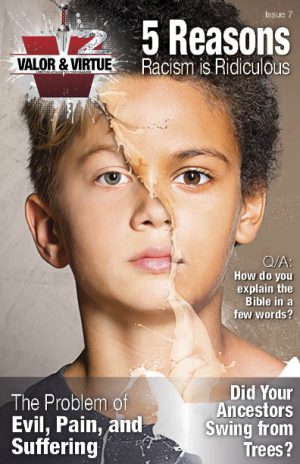 AP's Magazine for Teens

Misc.
The American teenager is under heavy attack by the forces of darkness spearheaded by Satan himself. Young people in America are constantly bombarded with moral and spiritual garbage via television, movies, Internet, and a myriad of electronic communication—not to mention the anti-Christian error they are taught in public schools. Parents have a heavy responsibility to guard their children's minds as much as possible, and to train them to withstand the sinister assault of Satan via his henchmen who do his bidding. What can be sadder than for Christian parents to devote themselves to rearing a child for 18 years, in hopes that he/she will choose to be a Christian and live the Christian life, only to have that child snatched from that spiritual upbringing by subversive influences that draw the child into infidelity. The grief created for such parents is almost unbearable.
<<Order Here>>
One of the primary reasons AP exists is to support parents in their God-given duty to rear children "in the training and admonition of the Lord" (Ephesians 6:4). We strive to help parents to clothe their children, as Paul described so eloquently, with
the whole armor of God, that [they] may  be able to stand against the wiles of the devil. For we do not wrestle against flesh and blood, but against principalities, against powers, against the rulers of the darkness of this age, against spiritual hosts of wickedness in the heavenly places. Therefore take up the whole armor of God, that you may be able to withstand in the evil day, and having done all, to stand (Ephesians 6:11-13).
To achieve this noble, eternally significant goal, AP continually produces articles, books, CDs, DVDs, tracts, and magazines that are intended to facilitate spiritual and moral strength. Indeed, our materials have as their purpose precisely the same divinely assigned objective that was given by Jesus to Paul: "to open their eyes, in order to turn them from darkness to light, and from the power of Satan to God, that they may receive forgiveness of sins and an inheritance among those who are sanctified by faith in Me" (Acts 26:18).
No one wants their child to come under the influence of darkness and the power of Satan. But this intention does not happen automatically. Parents must use all their energy and employ every available tool in this critical war to insulate the souls of their children. One powerful weapon is AP's publication for teens: V2. Referring to the twin attributes of valor and virtue, this magazine is packed with materials designed to provide teens with exciting evidences on their level, to strengthen their faith, give them confidence to defend it, and give them the tools they need to do so. If you have teens or know any teens, please send them to the V2 section of our Web site to view or download copies (https://apologeticspress.org/v2.aspx), or call AP to purchase hard copies.
---
REPRODUCTION & DISCLAIMERS: We are happy to grant permission for this article to be reproduced in part or in its entirety, as long as our stipulations are observed.