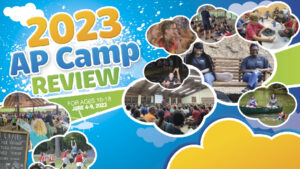 Another Outstanding AP Camp

Misc.
More than 280 campers and staff descended on the Indian Creek Youth Camp facilities the first week of June to participate in the biggest AP Camp ever. This year's AP Camp was designed to provide young people with what they need to know to protect their faith before going to college. Young people were treated to over 20 opportunities to hear the Word of God taught, including four Q&A periods. Morning classes covered everything from "How We Got the Bible" to "The Problem of Evil, Pain, and Suffering" to "Evidence for a Global Flood." Nightly lessons included such topics as "The Trustworthiness of the Bible," "A Shipwrecked Faith" and "The Need to Forgive." Three precious souls obeyed the Gospel while several others were restored.
Afternoons were filled with many different enjoyable activities, including swimming at the pools, canoeing at the creek, making cool arts and crafts, and playing a plethora of games/sports (from basketball and archery, to 9-square and the ever-popular coneball).
One older camper, who was a first-year AP camper, said at the end of the week: "This past week was one of the best weeks of my life." Another attendee wrote: "I've been going to camp since I was 5, and it was one of the best weeks of my life!" The impact of AP Camp is directed solely to the glory of God! We are grateful for all those who participated in this thrilling week, helping us to help others to learn the truth, obey the truth, and become defenders of the one true, saving Gospel of Jesus Christ.
---
REPRODUCTION & DISCLAIMERS: We are happy to grant permission for this article to be reproduced in part or in its entirety, as long as our stipulations are observed.