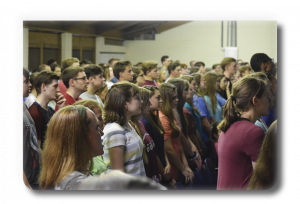 Another Great AP Summer Camp

Misc.
Apologetics Press just completed our ninth year of conducting apologetics summer camps. Under the experienced and able direction of Eric Lyons, the 280+ individuals who were able to attend this year's camp enjoyed an outstanding venue of spiritually enriching information on "The Flood."
AP camps provide a tremendous means of nurturing the young in light of the widespread unbelief and secularism plaguing American society. They promote moral and spiritual growth. They create new friendships that enable young people to have a network of individuals who are also trying to live for Christ. Quite frankly, we at AP have been pleasantly surprised and thrilled that AP camps have been so successful in achieving noble spiritual goals. They have become one of AP's most effective tools in the promotion of the cause of Christ and the defense of the Christian Faith.
The next AP camp is scheduled for June 2020 and will focus on "A Survey of Christian Evidences." If you want your children to experience an outstanding summer camp, to be strengthened spiritually, and to be exposed to quality Christian young people and adults, you should consider enrolling them in the AP Christian Evidences Summer Camp. The popularity of the camp grows each year. Registration opens soon after the first of the year and the enrollment for the week fills very quickly. Consider committing your 5th through 12th grader to a week of life-changing experiences.
---
REPRODUCTION & DISCLAIMERS: We are happy to grant permission for this article to be reproduced in part or in its entirety, as long as our stipulations are observed.