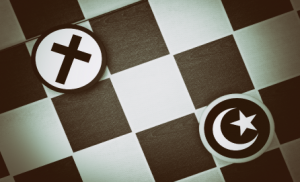 Allah vs. the God of the Bible
An honest and objective reading of both the Quran and the Bible reveals a significant clash between the two both in terms of how to conceptualize God, as well as in their respective depictions of the behavior of deity. Allah says and does things that the God of the Bible did not and would not say or do. The Quran's representation of the sovereignty of God (like Calvinism) contradicts the character of God by attributing actions to Him that are unlike deity.
For example, the Quran repeatedly represents God, on the occasion of the creation of Adam, requiring the angels/djinn to bow down and worship this first human. All do so with the exception of Iblis (i.e., Satan), who refuses to do so on the grounds that Adam was a mere mortal:
Verily We created man of potter's clay of black mud altered, and the Jinn did We create aforetime of essential fire. And (remember) when thy Lord said unto the angels: Lo! I am creating a mortal out of potter's clay of black mud altered, so, when I have made him and have breathed into him of My spirit, do ye fall down, prostrating yourselves unto him. So the angels fell prostrate, all of them together save Iblis. He refused to be among the prostrate. He said: O Iblis! What aileth thee that thou art not among the prostrate? He said: Why should I prostrate myself unto a mortal whom Thou hast created out of potter's clay of black mud altered? He said: Then go thou forth from hence, for verily thou art outcast. And lo! the curse shall be upon thee till the Day of Judgement (Surah 15:26-35, emp. added; cf. 2:34; 7:11-12; 17:61; 18:51; 20:116; 38:72-78).
This characterization of deity is completely unacceptable. This one incident alone illustrates that Allah is not the God of the Bible. The God of the Bible simply would not do what the Quran says He did. Numerous Bible verses convey the complete impropriety—even blasphemy—that the worship of a mere human constitutes. Humans are forbidden to worship other humans (Acts 10:25-26; 14:14-15). Humans are forbidden to worship angels (Colossians 2:18; Revelation 19:10; 22:8-9). And, most certainly, angels are not to worship mere humans. The Law of Moses declared that worship is to be directed to God (Deuteronomy 6:13; 10:20). When Satan tempted Jesus, and Satan urged Jesus to worship him, Jesus quoted the deuteronomic declaration from the Law of Moses, and then added His own divine commentary: "and Him only you shall serve" (Matthew 4:10, emp. added). No one, and no thing, is the rightful object of worship—except deity!
Interestingly enough, Satan's reasoning as reported in the Quran was actually biblical and right. Satan recognized that not only should angels not worship humans, but in view of his own angelic condition, Adam occupied a status that was beneath his own accelerated, celestial existence—a fact affirmed by the Bible: "What is man that You are mindful of him, and the son of man that You visit him? For You have made him a little lower than the angels, and You have crowned him with glory and honor" (Psalm 8:4-5; cf. Hebrews 2:9). The Quranic depiction of God ordering Iblis/Satan to worship Adam is a serious breach of divine propriety and a further indication of the Quran's conflict with the Bible. [Once again, the Quran appears to have been influenced by Jewish sources, since the Talmudists also represent the angels as bestowing special attention and honor on Adam (Sanhedrin 29; Midrash Rabbah on Genesis, paragraph 8)].
---
REPRODUCTION & DISCLAIMERS: We are happy to grant permission for this article to be reproduced in part or in its entirety, as long as our stipulations are observed.