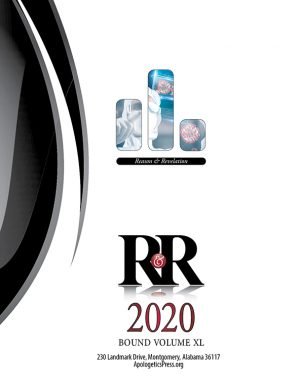 2020 Bound Volumes

Misc.
The 2020 bound volumes of our two monthly magazines are now complete and ready for shipment from our offices. These bound volumes enable the articles contained therein to remain relevant far beyond the time period during which they were authored. The 2020 bound volume of Reason & Revelation contains timely articles on such topics as:
More "Atheist-Making" Bible Verses You Need to Know; The Name "Christian" & Bible Inspiration; "Why is the Bible So Hard to Understand?" Genesis: Myth or History? Could Jesus Have Sinned? The Four Most Important Questions You Will Ever Ask; "Creationists Aren't Scientists, They Don't Get Published"; Isn't Lying Permissible in Certain Situations? God's Fierce Anger; Does the Garden of Eden Still Exist? Homosexuality: Society, Science, and Psychology; "I Believe in One Less God Than You."
As always, this beautifully bound, annual collation contains all 12 issues for the year, as well as an author/title index and attractive cover. Previous volumes from 1998-2017 (excluding 2016) are still available. See the center spread for pricing.
Additionally, the 2020 bound volume of Discovery, our monthly magazine on Scripture and science for children, is now available. During 2020, Discovery contained articles on such relevant topics as:
Woodpeckers; Proverbs; DNA; Pre-Flood Reptiles; Compassion; Amazing Noses; Biomimicry; Giants; Cats; Bible Prophecy; and many others.
These themes and topics build the faith of children and insulate them against unbelief. We still have in stock bound volumes for 1999-2017 (excluding 2001-2003). Please be reminded that for both Discovery and Reason & Revelation, whenever the bound volumes go out of print, they are gone forever; we do not reprint them. So be sure to order your copies soon.
Bound volumes of Reason & Revelation and Discovery make extremely useful additions to personal, church, or school libraries. They also make valuable gifts for youngsters, men who are attending a preacher-training school, or students in college (especially those majoring in either Bible- or science-related fields).
 _________________________________
On a sad note, we mark the passing of a great soldier of the cross who was instrumental in the establishment of Apologetics Press over 40 years ago. Wayne Jackson's outstanding intellect made him a gifted and prolific writer of materials that contributed mightily to the defense of the Christian Faith. His keen exegesis of the Word of God has aided literally thousands upon thousands of people. Our sadness is eclipsed only by anticipation of the grand reunion that awaits the faithful saints. 
---
REPRODUCTION & DISCLAIMERS: We are happy to grant permission for this article to be reproduced in part or in its entirety, as long as our stipulations are observed.